A full year between updates, this July update – to be Lync's last – takes the server to 5.0.8308.1001 from last July's 5.0.8308.992. This time 'round 7 components receive an update.
What's Fixed?
What's New?
Kb 4343362 Support for TLS 1.2 in Lync Server 2013
Korbyn has called out a warning on this one, lest you misunderstand what's going on:
#Skype4b #Lync 2013 Server CU-1001 released, includes "Support" for TLS1.2, this does NOT mean you can disable TLS 1.0 or 1.1 on a Lync 2013 system. Fabric 1.0 dependencies make this currently impossible and your services won't start.

— Korbyn Forsman (@TheRealKorbyn) July 10, 2018
Download
Installation
Here's the "before" view of it going on to my Standard Edition Front-End: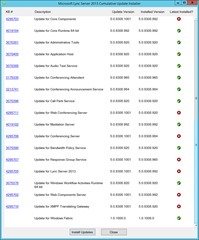 After you've run the installer & updated the databases (if required), don't overlook the final few steps:
Enable-CSTopology – which will fail if you have SfB2015 co-existing, so don't be frightened by the error "Command execution failed: "1" error categories reported in topology document."
Fire off the bootstrapper: %ProgramFiles%\Microsoft Lync Server 2013\Deployment\Bootstrapper.exe
And if you've skipped an update or two, best run Update-CsAdminRole after you're done to make sure the new commandlets added in previous updates are accessible when PS Remoting.
Reboot?
Yes, the installer prompted me to reboot.
Revision History
11th July : This is the initial release.
– G.