The August 2014 (CU5?) update for Lync Server 2013 has landed, and at first glance there's at least one fix for which I already carry a scar. Applying the update to my SE Front-End refreshed 8 components including a rare update to the Windows Fabric – see the image below. This release takes the Server to 5.0.8308.733 (although one KB link says it's 5.0.8308.738), up from .577).
What's Fixed?
Lots! Here are a few that interested me:
What's New?
2978444 Update for Lync Server 2013 to disable Lync Web App users' ability to upload and show PPT in online meetings
Note To disable the PowerPoint feature, after you install this update, you must run the following command in Lync Server Management Shell:
Set-CsConferencingPolicy -AllowOfficeContent $False
Download
Installation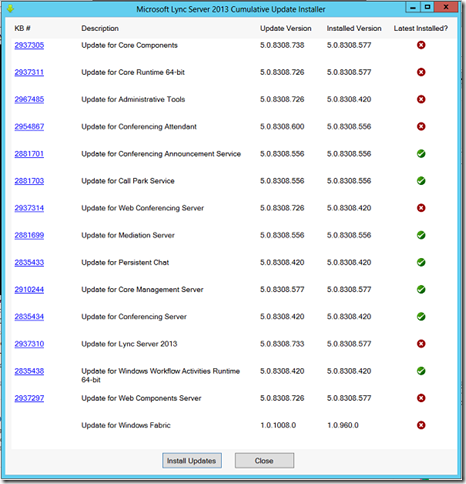 "You must make sure that all instances of the Event Viewer and Performance Monitor windows are closed before you install this cumulative update."
Other than the above new requirement, the update process is much the same as usual, although the installation process for the Windows Fabric update also requires all Lync services are stopped before you run the installer.
Check you're ready for this: run "Get-CsPoolUpgradeReadinessState"
Stop-CsWindowsService
Get-CsWindowsService – just to make sure
Run the update – it will want a reboot
Update "configured databases", making sure you don't overlook your Persistent Chat, Monitoring and Archiving Databases. NB: Take extra care – and read the kb guidance – if you're Mirroring, or have co-located databases.


The following steps are only required if you're still on RTM, aka 5.0.8308.0:

Update the CMS (ONLY if it's hosted on a Lync 2013 server)
Enable the Mobility service (with Enable-CsTopology)
Enable UCWA by running bootstrapper.exe on all Front-End and Director servers

A good test after applying the updates is to run Pat's "Get-CsDatabaseUpdateStatus" script just to make sure you didn't miss anything.
Problems?
If you encounter any problems installing this update, check out my follow-up post:
Lync Server 2013 CU5 OcsCore Update Fails

– G.