Breaking somewhat with tradition, Microsoft has released a free "basic" client for Lync 2013. It's clearly targeted at the Office 365 set, intended to make it easier to get them on-board without having to bother with licencing, distributing & managing use of the Client application, but there's potentially a use for it with on-prem users.
This 336M download ("lyncentry.exe") also strangely seems to fit and possibly have an application where the now-discontinued Lync Attendee left off. You can install this free client on your machine (perhaps at home) and login to Lync from there, or maybe join meetings.
The Download page calls out the limitations and requirements:
Lync Basic 2013 provides all the basic functionality that's available in the full version of Lync (Lync 2013). However, if you want to use any of the following features, talk to your workplace technical support about upgrading to Lync 2013:
Advanced call features (not available with all Office 365 subscriptions); advanced call features include team ring, call forwarding, simultaneous ring, voice mail, call park, call delegation, response groups, and remote call control

Calendar delegation /li>

Gallery video view

OneNote sharing

Recording

Skill search (not available with Office 365)

Virtual Desktop Infrastructure (VDI) (not available with Office 365)
The loss of Gallery video view is probably the most noticeable loss for me. And Tools / Options / Call Forwarding confirms the team calling and forwarding options have indeed gone: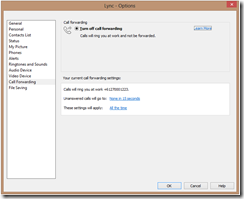 Client Comparison Table
Microsoft's kindly provided a client comparison table that highlights the differences.
Installation walk-through
First off, if you have the Lync 2013 Preview client installed, it'll need to go.
After you run Setup (and agree to the UAC popup), you're reminded that Lync is an Office 2013 application: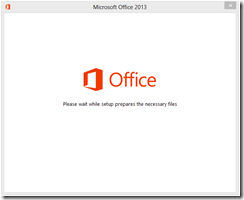 Next came the Licence agreement, which I didn't bother to capture.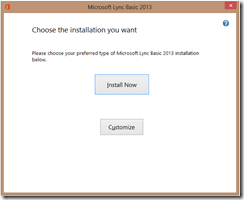 I chose Customize, but let it install the defaults for that option. Note that this client consumes 1.2G.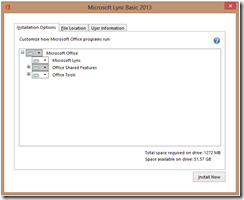 Yawn.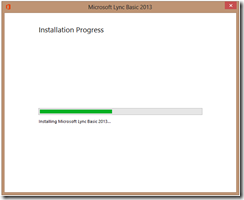 Ta-da!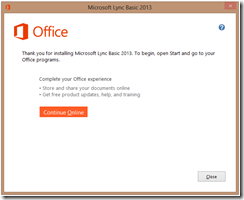 It reports itself to Windows 8 as Lync 2013, without any qualification: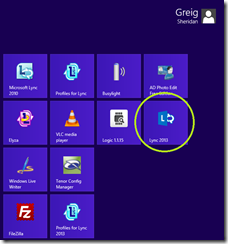 Thankfully it'll also happily co-reside with Lync 2010, and works with Profiles For Lync 2013 as well.
Interestingly, when you launch it, it first comes up as just Lync (in the title bar) before a second or so later revising that to Lync Basic:
Application
At the moment this is the first free-standing Lync 2013 client, so it has a particular market in us early-adopters. (I'm expecting a free-standing VL version of the client will materialise eventually).
Whether it takes off beyond the Office365 community remains to be seen, but it's likely to come in handy for those who sometimes work from home and might want to login to the corporate Lync from their home PC. (I wonder if it has a separate build number so Administrators of on-prem deployments can block this through Client Version Policy?)
Download
You'll find a link to the latest version of this client on my Lync 2013 Resource Toolkit page.