Just skating in to make the final week of our Aussie Winter, this CU updates six components from 5.0.8308.956 to its numerical anagram (if such a concept exists) of 5.0.8308.965.
What's Fixed?
What's New?
Nothing apparent just yet.
Download
Installation
Here's the "before" view of it going on to my Standard Edition Front-End: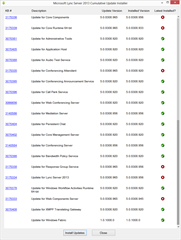 After you've run the installer & updated the databases, don't overlook the final few steps:
Enable-CSTopology – which will fail if you have SfB2015 co-existing, so don't be frightened by the error "Command execution failed: "1" error categories reported in topology document."
Fire off the bootstrapper: %ProgramFiles%\Microsoft Lync Server 2013\Deployment\Bootstrapper.exe
And if you've skipped an update or two, best run Update-CsAdminRole after you're done to make sure the new commandlets added in previous updates are accessible when PS Remoting.
Reboot?
Yes, the process prompts you to reboot at its completion.

Revision History
28th August: This is the initial release.
– G.