To round out the big week of updates, here's the latest server update for Lync 2010 .
The server release takes us to 4.07577.223. Sadly, there are NO specific fixes called out in this update.
CU10 – October 2013
Server Download (4.0.7577.223)
Installation
There's not a lot changing here, which is as you'd come to expect of a product of this maturity…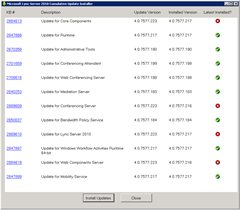 This update has a mandatory reboot at the end of it, and the now ubiquitous database update requirement too.
– G.