This February 2017 update takes the server from 6.0.9319.272 to 6.0.9319.277 & updates 5 components on my Standard Edition Front-End.
What's Fixed?
What's New?
The KB reports "This update enables Location-Based Routing to support the Skype for Business mobile clients" – as it also did in the November update.
Download
Installation
Here's the "before" view of it going on to my Lab's Standard Edition Front-End: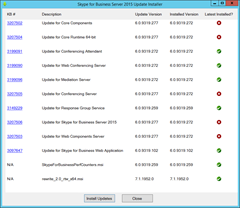 Reboot!
The installer prompted me to reboot:

Revision History
19th February 2017: This is the initial release.