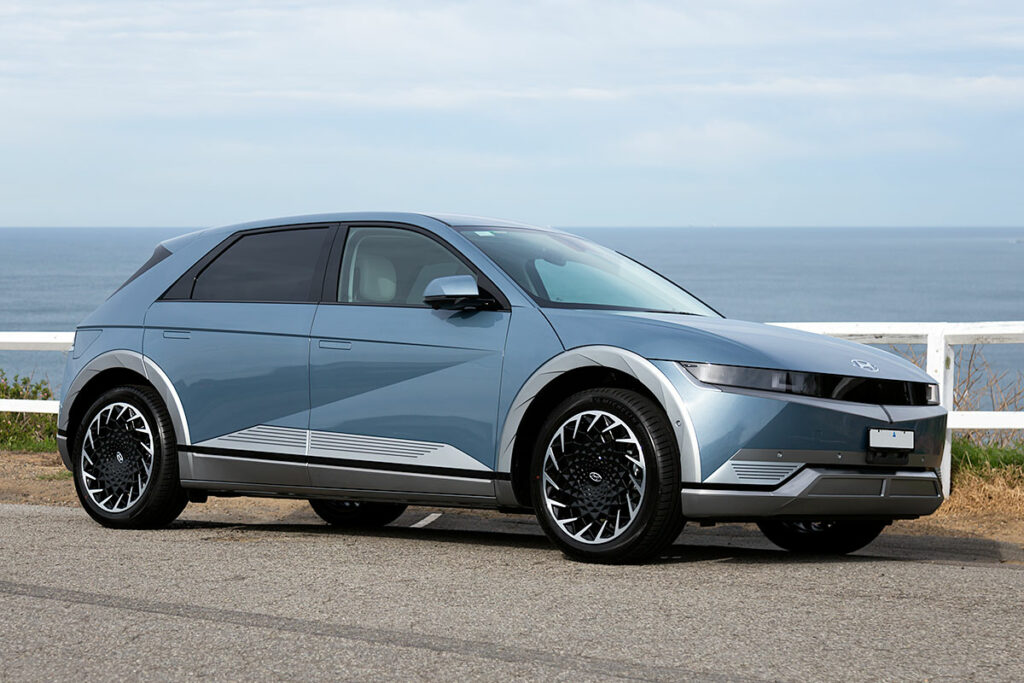 Mid-2023 we purchased a MY2023 Hyundai Ioniq5. This came after a LONG analysis process, with the alternatives progressively eliminated until we were left with the Tesla and the i5. I'd like to say we tossed a coin or something, but basically it was the baggage that Elon brings to his brand that swayed us to the Hyundai.
This page will be updated as our time with the car grows. Click the links to jump to the section headers:
What did we get?
What's in the box
Charging
Software
Issues
---
What did we get?
In Australia you get the choice of exactly three models – The "Dynamiq", "Techniq" or "Epiq". We bought the mid-range Techniq model which gets us:
77 kWh Lithium-ion Battery
2 motors (aka 4 driven wheels)
239kW of power across the two motors generating 605Nm of torque
450km WLTP* range
Other features, like pre-paid servicing, road assistance cover, etc
* Won't Likely Turnout Possible
---
What's in the box
1 x car
1 x "emergency" charging cable (standard 10A Aussie plug to CCS2 aka, "Granny Cable").
1 x Vehicle to Load (V2L) adapter with standard 15A Aussie power outlet.
1 x tyre mobility kit (but no spare wheel)
1 x elastic net thingy for the back
2 x physical keys
2 x spare "EV" triangular number plate badges (for if you change the plates)
1 x quick start manual (The full manual is over 600 pages and only available digitally.)
---
Charging
Our goal going into this is to charge the car from our excess solar production, and minimise grid input. We're retired and the car will spend more time depreciating in the garage than on the road, so we won't be needing to frequently charge it from flat to full. Greig's ideal approach here is to have it "trickle-charged", only when there's solar surplus, and ahead of a "big" drive we'll "fill 'er up" from the grid if required.
We used solarquotes' ev charger comparison table in an effort to find a charger [aka EVSE] that met all the criteria, but all roads led to gravel or a dead end. The closest we came was the Keba, which runs as a three-phase device when you need the grunt, but drops to single-phase operation for something closer to a more leisurely "trickle". We couldn't pin the local rep down, so abandoned it for the time being. (I figured he's either flat out shipping boxes to invest the time into me, or doesn't know the product well enough to chance a 'not fit for purpose' claim if it didn't end up working as expected).
Late in the review process came news – totally unsubstantiated – that Enphase (our brand of solar inverter) will be releasing a car charger in the next year or so. That was enough of a trigger to shelve what had been a frustrating investigation, and lash out almost $2k on an octopus cable. It has almost no smarts in it, but it comes with 5 different power plugs which will allow us to use any standard power socket in Australia ranging from the standard 10A single phase right up to 32A three phase. We happen to have a 32A three phase socket in our garage. There's a review of the cable here. Check the video out because he has a 5% discount code if you want to buy one.
---
Notes
Here's where various notes will go, as sub-headings. I'm thinking Audio and One-Pedal Driving might be two that will make an appearance.
Multi-Driver
The car has two daddies, and we're keen to understand how well it will cope with both of us in the car. Is it critical that the driver unlocks it, or is there some other trickery required? Stay tuned.
Software
The car arrived with <TODO>
---
Issues
I'm sure we'll find some over time.
---
References
---
Credits
Unless credited otherwise, all photos here are the effort of my collaborator in life, Rocky. The text is a combined effort.
---
Revision History
I normally add a 'revision history' tag at the bottom of each post so it's clear when I change, add or update something, but as this page is quite "dynamiq" , I'll skip that this time.
– Greig.