I've just released an updated version of HIDnLync. It adds a few new presence states, as well as the ability to automatically run it when the user logs in to Windows.
The new version is 1.0.12.
Download
Download it from here:
Client Version Clarification
As per THIS post, you only need BOTH versions of my utility if you have BOTH Lync 2010 *and* Lync 2013 clients installed on your PC. If you only have one installed client, then either version of the utility will work fine.
What's New?

A bit!
Have a look at the new options on the Setup screen: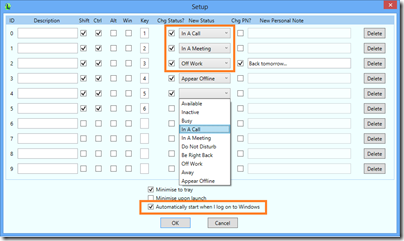 What excites me the most about this version is that I can now set a hotkey in Windows to make my Lync client show "In A Call" when I'm on my mobile phone!
Credits
A special shout to Jan Egil for creating THIS PowerShell script that parallels a lot of the HIDnLync functionality. It helped me understand how to send the "ActivityIDs" to the client. (Thanks Jan!!)
G.