I hit an expected snag recently where I wasn't able to get an existing SfB 2015 Front-End pool to start after growing it from 1 to 3 servers. Coincidentally I'd performed this same job for another customer maybe a month prior and it had gone off without a hitch. Not so this time.
Try as I might, no amount of resetting the fabric with Reset-CsPoolRegistrarState was going to work; the pool steadfastly refused to start: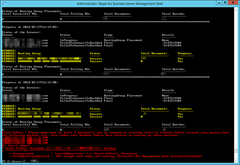 Start-CsPool : Please make sure at least 2 machine<s> are in running or starting state to achieve fabric network ring quorum from the following machine list. Also makes sure Windows Fabric Host Service is running on those machines.
Continue reading 'Event 18456 – Start-CsPool Error Failed to Connect to BackEnd' »